Higher NYE Countdown
Dec 17(mon) at TRUMP ROOM Shibuya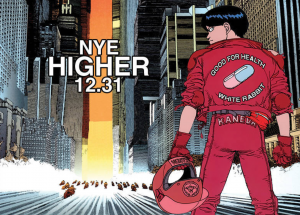 WHITE RABBITが主催する年末年始のカウントダウンパーティ、「Higher NYE Countdown」。
王道のテクノやヒップホップ、トラップに至るまで幅広いクラブミュージックを提供予定。カウントダウンから2019年を迎えるときには、最もアツい時間が流れていることだろう。
とにかく年末年始を踊って過ごしたい・音の波に飲まれたいという方は必見のイベントだ。
Quote:
Come countdown to 2019 with WHITE RABBIT at the OFFICIAL TRUMP ROOM NYE EVENT!
HIGHER is all about the music, focusing on bringing you the best TECHNO, TRAP, and HIP HOP sounds in Tokyo. Simply put, if you love quality music, there is no alternative.
Come celebrate NYE like never before at one of the most unique and renowned venues in Tokyo! We promise to make your countdown to 2019 unforgettable with incredible decorations, international DJs, and special performances!
Follow the White Rabbit and prepare yourself for the wildest NYE Countdown to 2019 in Tokyo.
【LINE UP】
NEOSIM
…and more
source:https://iflyer.tv/ja/event/309989/
▽Information
開催日時:2018年12月31日 (月)
会場:TRUMP ROOM  東京都 渋谷区 神南1-12-14 星ビル301
時間: 21:00〜29:00
Presale 前売 / Facebook Guest Price ゲスト入場料:2500円 +1D
※ゲスト入場希望の方はFacebook「参加」ボタンを押して、受付にてイベントページをご提示ください。
Door Price / 通常入場料:3000円